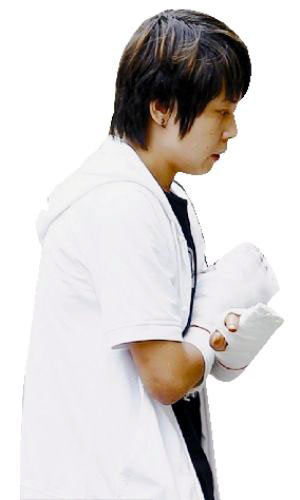 Wang Meng is pictured after receiving stitches following a drunken brawl during the team's training camp in Qingdao, July 24 file photo.
* Wang Meng expelled for the second time, four other athlets to quit
BEIJING - Four-time Winter Olympic champion Wang Meng was expelled from the Chinese national short track speed skating team after a drunken brawl with team manager, announced the country's sports governing body on Thursday evening.
"Wang Meng is expelled from the national team and is banned from international competitions as her conduct has violated the team's disciplines and jeopardized the sport's image," read a statement released late Thursday by China's General Administration of Sport.
Wang, 26, had been earlier suspended under an interim castigation following an incident at a training camp based in the eastern Chinese city of Qingdao on July 24.
The most decorated Winter Olympic athlete of China punched her team manager Wang Chunlu after being criticized for failing to return on time to the camp after a night out with five other teammates.
Also expelled was male speed skater Liu Xianwei, who was alleged to have stirred things up before the argument between Wang Meng and Wang Chunlu turned physical.
Four other squad members involved, including Zhou Yang, Liu Qiuhong, Han Jialiang and Liang Wenhao, were allowed to keep training with the national team, but would have to write confessions.
(Xinhua)