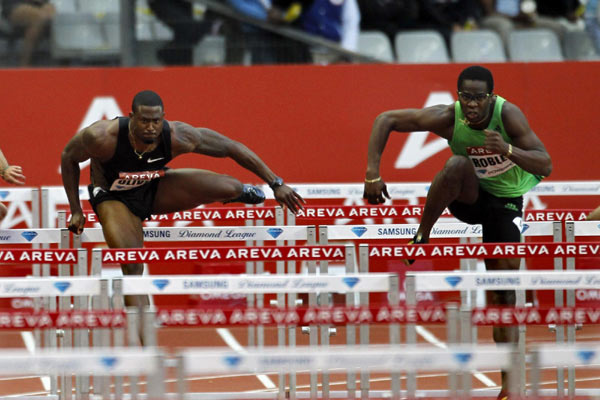 David Oliver of the US (L) and Dayron Robles of Cuba compete in the men's 110m hurdles event during the IAAF Diamond League athletics meeting at the Stade de France Stadium in Saint-Denis, near Paris, July 8, 2011.
DAEGU, South Korea - The world's three fastest men are gearing up for the men's 110m hurdles at the World Championships in this South Korean city. Cuba's Dayron Robles said Friday the game would be "complicated" while American David Oliver admitted it would be "very very tough".

Daegu will see the first Championship clash of hurdling's current big three - world record holder and 2008 Olympic champion Robles, former World record holder and 2004 Olympic champion China's Liu Xiang, and 2011's fastest man Oliver. They are also the three fastest hurdlers in the history of the event - Robles, 12. 87 seconds, Liu 12.88, Oliver 12.89.

The final here, should all three men make it, will be their first meeting in a final at a global championships. All three were in Osaka 2007, but Oliver failed to make the final which Liu won. Robles was fourth.

Each of the big three comes to Daegu with some question marks against their form. Liu has raced sparingly, trading wins with Oliver in the Shanghai and Eugene SDL races, before winning the Asian championship in Kobe.

One phrase kept popping up during the formal part of Robles' media conference at Daegu Sports Museum on Friday. "It's complicated," he inserted somewhere in almost every answer. "One mistake and you're dead," he said.

Robles said he wanted the gold medal in Daegu, and he had a finite time at the top and he must use it to acquire championship medals. "I need to win every medal I can. I'm working hard to stay at the top every year."

He ran his fastest time for the season at the London Samsung Diamond League - his 13.04 repelling the challenge of the USA's emerging Jason Richardson, Oliver, Dwight Thomas, and the third American in Daegu, Aries Merritt.

The 25-year old Cuban hurdler said he began 2011 at about "80- 90 percent fitness," but "in the last competition in London, I felt better. It was my best competition of the season. It is better to be coming here getting faster."

"I'm training hard, but there are so many things. Maybe you have some injury, maybe a poor start, you hit some hurdles - you never know what happens.

"You have 10 hurdles. You need to look in your own lane and prepare to run very fast."

Robles said he does not think about records. "I think about the perfect race," he said, while admitting he may never run it. "Only after I run I check the clock, but that's it."

Also in the day, Oliver told a press conference of the US team that the game would "really really tough", with most of the best hurdlers in the world in Daegu and the tight competition schedule.

"I think it will be really tough. We all knew coming into the season it was going to be about mastering these three rounds in 24 hours' time. But my main rival is always the same - the hurdles," he said.

Oliver, who missed the 2009 World Championships in Berlin due to injury, said, "We've got the three fastest people in the event. We're in the spotlight which I think is cool and I'm sure we'll go out there and perform like we usually do."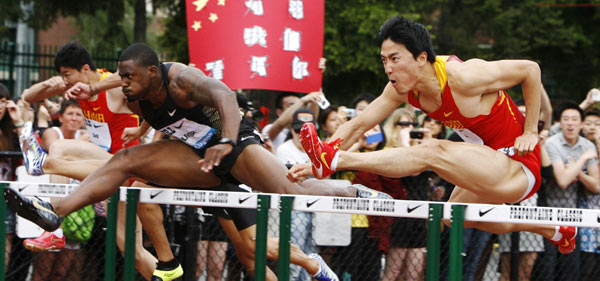 David Oliver (L) of the US leads Liu Xiang (R) of China in the 110m hurdles at the Prefontaine Classic Diamond League track meet in Eugene, Oregon June 4, 2011.
But the 29-year-old Olympic bronze medalist said he was not nervous. "I'm never nervous. I've raced them several times and I talk to them all the time. It is the same people who are going to be in the final, and the same people in the Diamand races.

"They're pretty cool guys. Liu's English is becoming better and Robles' is a lot better than we met in 2006... They are all pretty cool," Oliver said.

Oliver is the only one of the three under 13 seconds, with his 12.94 in Eugene (to Liu's 13.00). But his form has dipped of late and he has lost both to teammate Richardson and Robles.

He said the start would be definitely a critical part. "You got to execute the start and if you can do that, everything will be taken care of."

With the world's three fastest men all in Daegu, is a new world record possible? Oliver said he can't make any predictions. "I just want to make sure that I can go out there and try to win the gold medal."

While Robles said maybe it will take a world record to win the gold medal in Daegu and anything is possible.
(Xinhua)