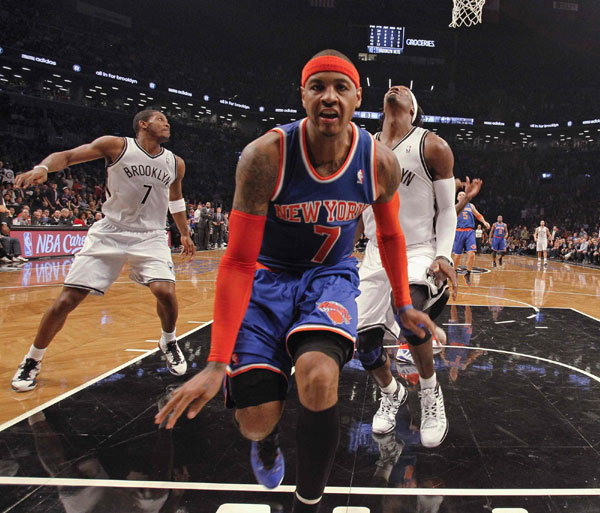 New York Knicks forward Carmelo Anthony (7) reacts after he scored past Brooklyn Nets guard Joe Johnson (7) and forward Gerald Wallace (R) in the fourth quarter of their NBA basketball game in New York, December 11, 2012.
Carmelo Anthony continued his scoring extravaganza with 45 points, pacing the New York Knicks to a 100-97 victory over the Brooklyn Nets on Tuesday night.

The Knicks' megastar, who played 44 minutes, kept torching the home team from every corner on a 14-25 shooting percentage. He had 15 points in the 4th quarter alone, just 3 less than all of the Nets players combined.

But it was Jason Kidd's 3-pointer with 24 seconds to go that declared the sudden death sentence for the Nets, who blew a 17-point lead in the first quarter.

"When they doubled Melo, we had practiced that, somebody is going to have wide open look," said the former Nets guard. "And Ray (Raymond Felton) made a great pass."

All of Kidd's 18 points were from behind the arc – he drained 6 on eight attempts. The Knicks had 14 treys in the game, while the Nets had only 4, which cost them an arm and a leg, according to Avery Johnson, Nets' head coach.

"In the first game against the Knicks, we guarded at 3-point line well. Tonight (we had) just too many breakdowns with guarding the 3-point line," said Johnson. "In a perfect world, they (the Knicks) should only make seven or eight 3s tonight, not 14."

Andray Blatche led the Nets with 23 points, most of which were from the paint, a big relief for the Nets, who missed their starting center Brook Lopez for the sixth straight game due to a mild sprained ankle.

Deron Williams had 18 points and 10 assists, Gerald Wallace and Joe Johnson added 18 and 17 points, respectively. Reggie Evans grabbed 18 rebounds for the home team.

With Tuesday night's win, Knicks manage to break even with its cross-bridge foe, who claimed a victory in a delayed season opener on Nov 27. It also consolidates its top place in the Eastern Conference ranking, while the Nets, who had not won a single game in December, fall to the sixth spot.

The Nets moved to Brooklyn from New Jersey in the offseason due to marketing concerns. And only 40 days into the season, a rivalry between NYC's two basketball pro teams has developed.

Fans wearing the blue-and-orange Knicks gear could be easily spotted at the $1 billion Barclays Center. They kept chanting for the road team, and their boos on the Nets were enough to drown out the cheers for the home team.

"It is (a rivalry). I mean, after that first game, we might as well accept that," said Anthony, who was born in Brooklyn." It is what it is. They're in our division, we see them four times a year. It is a rivalry. It's great for New York to have that in Brooklyn and in Manhattan. When we come here it's a battle. When they come there, it's going to be a battle. We expect that."

The next two meetings between the two teams will be on Dec 19 and Jan 21, both at Madison Square Garden.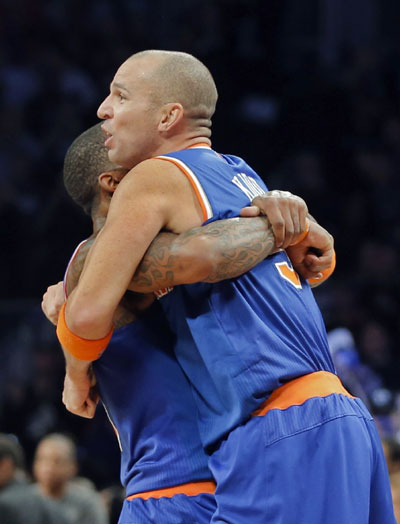 New York Knicks guard J.R. Smith hugs guard Jason Kidd (R) after they beat the Brooklyn Nets in their NBA basketball game in New York December 11, 2012.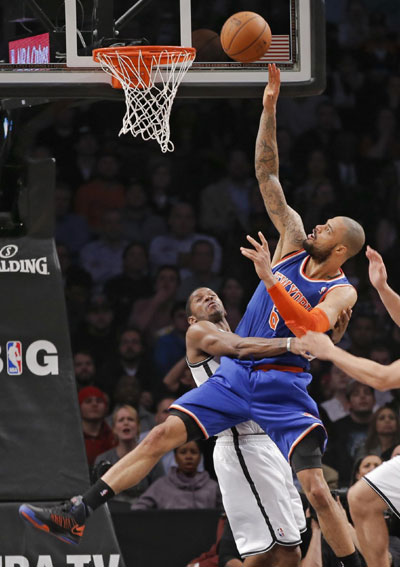 New York Knicks center Tyson Chandler (6) lobs in a shot as he is fouled by Brooklyn Nets guard Joe Johnson (L) in the third quarter of their NBA basketball game in New York, December 11, 2012.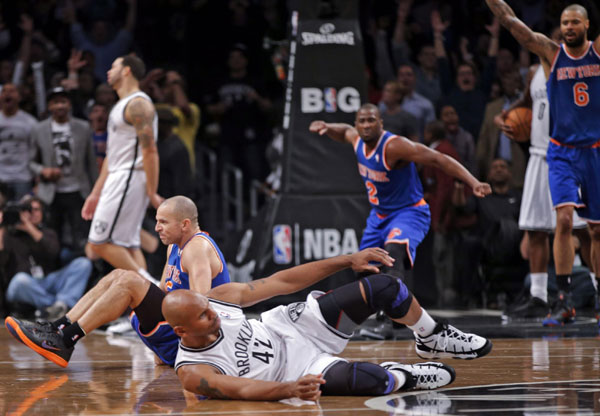 New York Knicks guard Jason Kidd (5) comes up off the floor after he was fouled by Brooklyn Nets forward Jerry Stackhouse (42) while shooting a three-point shot to win their NBA basketball game in New York, December 11, 2012. Nets guard Deron Williams (L) and Knicks guard Raymond Felton (2) and center Tyson Chandler (6) react.
(Agencies)