Singapore's Shahril Ishak (L) fights for the ball with China's Liu Jianye during their Asian qualifying soccer match for the 2014 World Cup, in Kunming, Southwest China's Yunnan province September 2, 2011.
KUNMING - China laboured out a 2-1 comeback win over Singapore at the first group match in the third round of the 2014 World Cup Asian qualifiers here on Friday.

Singapore opened the scoring in the 33rd minute from China skipper Li Weifeng's dribbling error in the hosts' own half field. Tall striker Aleksandar Duric and his front line partner Qiu Li took good use of the chance to carve open the Chinese defence in the counter-attack, and Duric drove home a sharp small angle shot from Qiu's assist.

After missing a 59th-minute penalty, China levelled the score also by a penalty ten minutes later by substitute midfielder Zheng Zhi. Yu Hai took the winner on 73 mintues after substitute Yu Dabao's powerful shot following Zheng Zhi's left wing cross was blocked by keeper Lewis, who replaced injured Izwan Mahbud in the 54 minute and denied Qu Bo's penalty five minutes later.

Singapore coach Raddy Avramovic was sent off for protesting the referee after giving the hosts two penalties.

It is the first win for China's head coach Jose Antonio Camacho, who took over from Gao Hongbo on August 14. China is grouped with Iraq, Jordan and Singapore in Group A at the third round of the Asian qualifiers. The top two will qualify for the fourth round, which is made up of 10 teams.

China will meet Jordan in the next group match on September 6.

China had only one world cup experience: Bora Miludinovic guided them to the 2002 South Korea/Japan edition.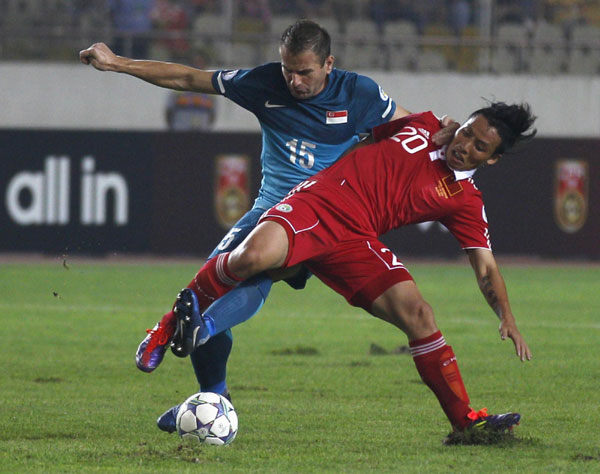 Singapore's Mustafic Fahrudin (L) fights for the ball with China's Chen Tao during their 2014 FIFA World Cup Asian qualifying soccer match in Kunming, Yunnan province September 2, 2011.
(Xinhua)