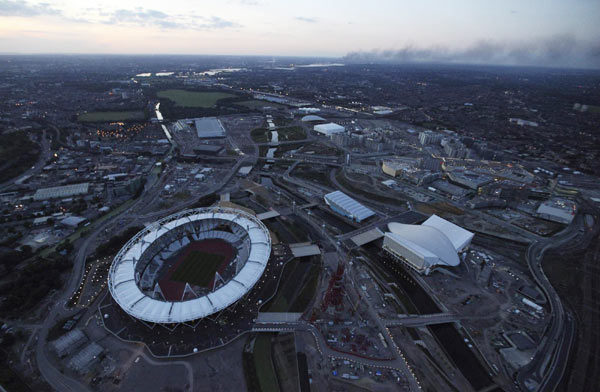 The Olympic Stadium (bottom L) and the Aquatics Centre (bottom R), two of the venues for the 2012 London Olympics, is seen as smoke continues to rise from a Sony Warehouse, which was destroyed by arsonists in Enfield, in north London, August 9, 2011.
LONDON - As London reeled from three days of rioting and looting, 1012 Olympic organizers sought to maintain a business-as-usual attitude Tuesday, going ahead with a series of events to prepare for the 2012 Games that London will be hosting a year from now.

A women's beach volleyball tournament began as scheduled at Horse Guards Parade, with players in bikinis competing on a specially made sand court a short distance from Prime Minister David Cameron's 10 Downing Street residence.

But organizers decided to use two courts instead of one for Tuesday's 12 matches so that play could finish 90 minutes early, allowing spectators and staff to leave before dark.

FIVB Beach Volleyball Director Angelo Squeo consulted with high-ranking London Olympic organizers and police before taking the decision. Squeo, who was on site during the Olympic Park bombing at the 1996 Atlanta Games, said he "will do whatever to not even risk putting in danger anybody here."

The competition, which runs through Sunday, is a test event for the Olympic tournament that will be played at the same iconic venue next year.

Other scheduled test events this week include a cycling road race that will go through the streets of London on Sunday and a marathon swimming competition at Hyde Park on Saturday. The world badminton championship are taking place at the Olympic venue of Wembley Arena in north London.

Olympic men's badminton champion Lin Dan of China said he took some precautions amid the unrest. "I just aimed not to go along the street too much," he said through an interpreter. "It was all right."

A wave of violence and looting has raged across London, as authorities struggled to contain the country's worst unrest since race riots set the capital ablaze in the 1980s. More than 400 arrests have been made so far.

The image of the host city has been tarnished by the images broadcast around the world of buildings and vehicles in flames and looters running amok.

"A lot of detailed work has taken place regarding security plans for the games and we will continue to review them together with the Met Police and the Home Office over the coming year," LOCOG, the local organizing committee, said in a statement.

Olympic security officials said they are confident of their plans and have already taken public disorder into account as a potential risk.

"What is absolutely clear is that we are committed to the games being delivered in safety and security, for athletes, spectators and the wider public."

Mayor Boris Johnson said he felt "ashamed" at the violence and the damage to London's image around the world.

"In less than 12 months we will welcome the world to a great summer games in the greatest city on earth - and by then we must all hope that we will look back on these events as a bad dream," he said in a column in the London Evening Standard. "It can be done. But it will be hard, and we will have our work cut out."

British Olympic Association spokesman Darryl Seibel expressed confidence the games would pass off safely.

"It makes an Olympic Games and a Paralympic Games all the more important," he said on Sky TV. "We need a reason to come together. What better city to do it in than London. This is not a reflection of London, this is a reflection of the world we live in today."

Hundreds of Olympic delegates from around the world were gathering Tuesday at a luxury hotel in Park Lane, near Hyde Park, to check on logistical preparations for the games. The chefs de mission, or team leaders, from more than 200 national Olympic committees were scheduled to tour the venues on Wednesday.

The IOC reiterated its confidence in security planning for London. "Security at the Olympic Games is a top priority for the IOC," spokesman Mark Adams told the AP. "While we are not responsible for security, we're happy with how local organizers are dealing with the issue and we are confident they will do a good job."

UK Prime Minister Cameron cut short his summer vacation in Italy and returned to London to deal with the crisis. He recalled Parliament from its summer recess and said 16,000 officers would be on the streets of the capital Tuesday night - almost tripling the number on the streets Monday night.

Britain was already preparing a massive security operation for the Olympics, but most of the attention has been on the threat of international terrorism. About 12,000 police officers will be on duty each day of the games, which have a security budget of at least $770 million.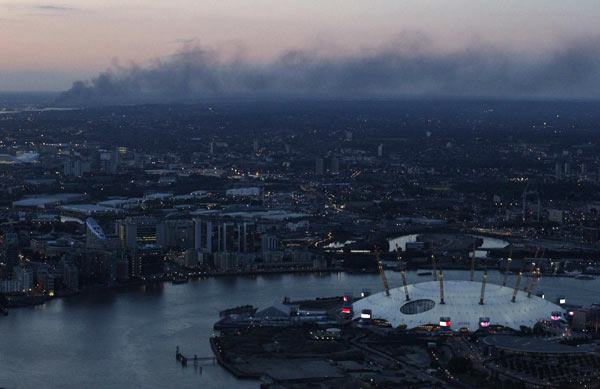 The O2 arena (bottom R), one of the venues for the 2012 London Olympics, is seen as smoke continues to rise from a Sony Warehouse, which was destroyed by arsonists in Enfield, in north London, August 9, 2011.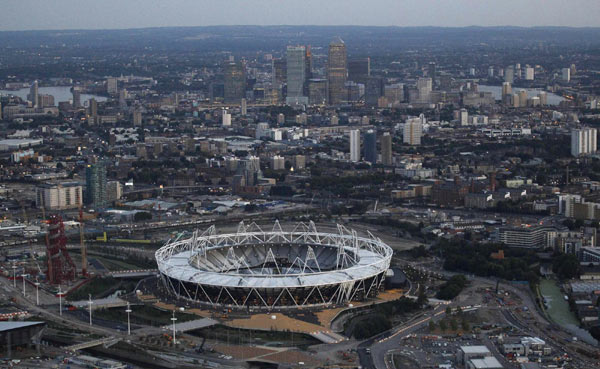 The 2012 Olympic Stadium is seen at sunset in London, August 9, 2011.
(Agencies)