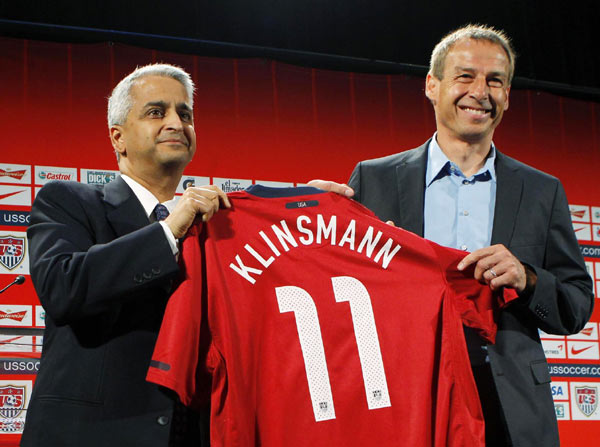 Former German soccer star Juergen Klinsmann (R) poses with US Soccer president Sunil Gulati after he was introduced as the new head coach of the United States men's national soccer team at a news conference in New York August 1, 2011.
NEW YORK - New US coach Juergen Klinsmann believes his mix of international experience and American knowledge will allow him to improve the national team.

The former Germany striker and coach, who has lived in the United States for 13 years, was introduced Monday and he spent much of the time talking about how to mold future American stars, not managing current ones.

"It all starts down to develop the next Landon Donovan," Klinsmann said of the US one day becoming a serious contender for World Cup titles.

And "one day" is the key phrase - he believes "we still are quite a long way away from that." "You need maybe 10 Landon Donovans at different positions with different characteristics in order to one day be there," Klinsmann said in an interview.

Perhaps it's partly a way to temper expectations as he takes over from Bob Bradley, whose firing was announced Thursday. The US reached the round of 16 at last year's World Cup, but blew a two-goal lead in the Gold Cup final loss to Mexico in June.

Still, Klinsmann makes it clear he views his charge as bigger than just preparing Donovan and his teammates for major tournaments. "It also is vital I am involved in all the discussions with a lot of coaches out there, how we improve the grass-roots level," Klinsmann said. "I'm fascinated by that approach."

He contends his background of international experience plus American savvy is the perfect blend to accomplish that. He won a World Cup title as a player and starred for elite European clubs, then coached Germany to a third-place finish at the 2006 World Cup.

But he has also lived in the United States for 13 years and sounds right at home talking about Oakland A's general manager Billy Beane's statistical analysis of baseball. "I'm not coming in here to play the European guy," Klinsmann said.

His wife is American and he concedes his two football-playing kids consider themselves more American than German. Klinsmann feels fluent in his adopted country's culture, that he'll know which parts of the European system will work here and what must be uniquely American.

"It took me years to understand how important this whole education path for people is in this country," said Klinsmann, who just turned 47.

That means college level will remain a piece of the development pipeline, as different as that is from other countries. Klinsmann plans to consult with college coaches as he hones his approach.

He repeatedly mentioned MLS teams' growing youth academies as hugely positive development. And he can influence the future of the sport in the United States in a more indirect way, as well. The marketing and success of the national team have the power to inspire young players to spend more time working on their sport.

Long linked to the job, Klinsmann finally was announced as the US coach Friday.

Klinsmann said he had several opportunities in the past year to coach big European clubs or national teams, but didn't want to leave his home in California. He and US Soccer President Sunil Gulati insisted that control was not the issue when they failed to come to an agreement in the past.

"I reached a comfort level with Sunil where I really think it's not about a paper anymore," Klinsmann said of not being able to get a deal done in writing last summer.

Gulati said the firing of Bradley wasn't simply a reaction to the Gold Cup disappointment.

"It's not a single game or a single result," he said. "It's where the program is, how comfortable we feel in the direction that it's going - based partly on results, partly on looking at the last year."

Klinsmann spoke to five or six players over the weekend and plans to get in touch with the rest Tuesday. The US team has just nine days before its next game, against Mexico in Philadelphia on August 10. Klinsmann expects to announce the squad Wednesday.

He plans to take a few months before picking his staff to see who's available and what the squad needs.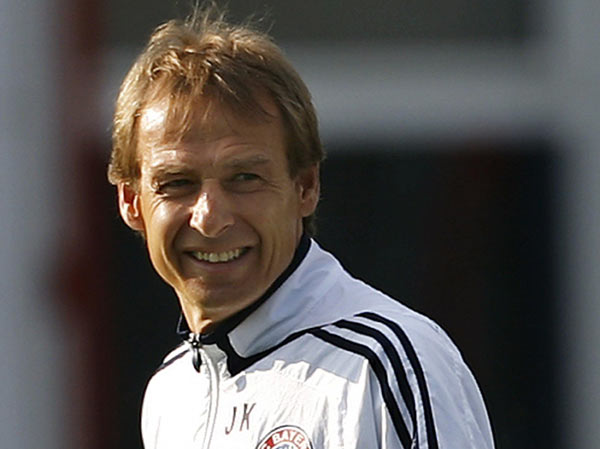 Bayern Munich's team coach Juergen Klinsmann smiles during a training session in Munich, in this April 13, 2009 file picture.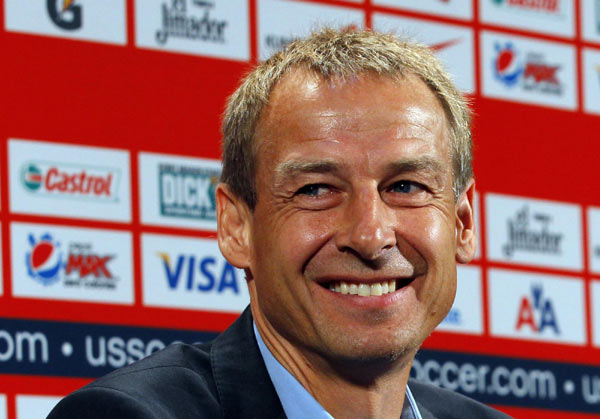 Former German soccer star Juergen Klinsmann smiles at a news conference after being introduced as the new head coach of the United States men's national soccer team at a news conference in New York August 1, 2011.
(Agencies)