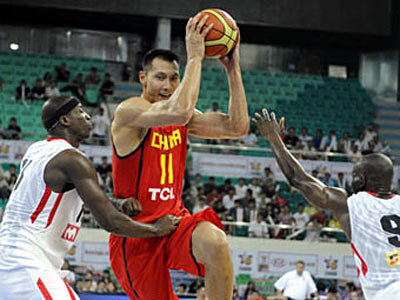 China's Yi Jianlian (C) jumps for a shot against two Angolan players at the Guangzhou leg of the 2011 Stankovic Cup in Guangzhou, Aug 9, 2011.
GUANGZHOU - China eventually savored its first victory at the Stankovic Cup this year, beating Angola 64-54 in the Guangzhou leg on Tuesday to finish its Cup journey in the third place.

However, the Chinese team coach Robert Donewald still complained of the busy schedule for his team full of injuries.

After losing all its seven games at the Cup earlier, the hosts were desperate to get a single victory with their last hope lying here on Tuesday evening.

Leading the match all the way, China enjoyed 6-0 and 9-0 runs in the first half, stretching its lead up to 20 points. However, the hosts suffered a winless five minutes in the beginning of the fourth quarter, only to see the Angolan side cut the deficit to eight points.

Then, the Chinese players, for the first time at this year's Stankovic cup, showed their prowess at the big moments.

Yi Jianlian made a crucial block to stop the Angolan side, and Zhang Qingpeng stole the ball for an easy layup to stretch cushion to 11 points with only 50 seconds left.

Throughout the match, the Angolans only made 2 of their 20 attempts from the 3-point line, marking their worst record at the Cup.

"I believe the Chinese coach did a hard job in training their defence. Their tactics in defence have dramatically improved tonight," said Angola's coach Gomez said.

According to Gomez, China's NBA player Yi Jianlian posed the greatest threat to Angola, as his shooting was as sharp as a razor's edge.

Away from his dominance at crunching moments, Yi led the team to a united one, scoring the match high 22 points, while Zhang Bo and Zhang Qingpeng combined for 21.

"Yi returned, many of our guys could get back to their normal positions, so our attacking tonight seemed more normal and fluent than before," said Donewald, coach of the Chinese team.

Despite winning the first victory, Donewald would never forget to complain about the busy matches his team of injuries was suffering. "We won, you believe it is good. But I don't think so, there are more injuries in our team.

"Eight games in nine days, so I must choose to lose some games to protect the team." Donewald said, shaking his head, "Anyhow, I will make you proud in September at the Asian Championship, and that is my job," he said.

The Asian tourney will be held in China's southern city of Wuhan, with the winner qualifying for the London Olympics directly.
(Xinhua)