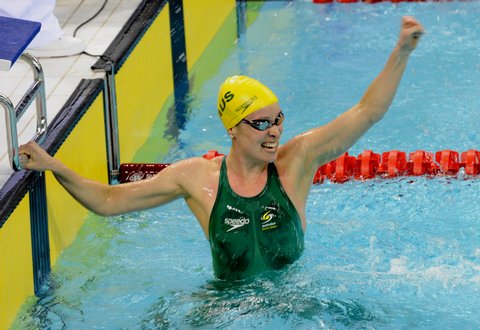 SHENZHEN - Australian swimmers set the first record at the 26th World University Games on Sunday as Japan overtook hosts China at the top of the medals table.
China captured a gold medal each in weightlifting and swimming to lift its total to five at the end of Day 2, while Japan has also won five golds so far but had three more medals in total.
Ji Jing made it three gold medals for China from the first three weightlifting events by winning the women's 53kg category, but Indonesia's Eko Yuli Irawan broke China's dominance when he upset local favorite Chen Meilong to take gold in the men's 62kg division.
"I'm so happy I've won. This is the first time I've won gold at a major international competition," said the 22-year-old Irawan.
"My next goal is to win the gold medal at the Olympics. I hope we can beat the Chinese athletes there," he added.
Ji Jing was impressive early, lifting 100kg in the snatch giving her an 8kg buffer on nearest rival Hsu Shuching from Chinese Taipei.
With the pressure on the other competitors, Ji pressed her advantage by confidently making her first clean and jerk lift of 115kg. Hsu fought hard and was successful at all of her clean and jerk lifts 110kg, 113kg and 115kg.
However, these efforts paled in comparison to Ji, who went on to make her next lift with 122kg. She then made an unsuccessful attempt at her final lift of 127kg, only 2kg shy of the world record.
Ji finished with a combined total of 222kg, 15kg clear of Hsu. "This is my current best result in competition, I will next focus on next year's Olympic Games," said Ji.
In the pool, the Australian quartet of Cate Campbell, Alice Mills, Jessica Morrison and Marieke Guehrer won the women's 4x100m freestyle relay in 3 minutes 40.03 seconds, eclipsing the previous mark of 3:40.85 set by the United States at the 2007 Universiade in Bangkok.
China's Lu Ying cruised to gold in the women's 50m butterfly in 25.98 seconds, just one hunderdth of a second shy of the Universiade record.
"I am quite satisfied with my performance tonight, but when I got to the finish, my hand slipped on the touch pad. Without this mistake, I think I would get a better result," said Lu, the 100m butterfly bronze medalist in last month's world championships in Shanghai.
The Netherlands celebrated double gold in women's judo on Sunday. Esther Stam won the 63kg event and Kim Polling clinched the 70kg title at the Shenzhen Convention and Exhibition Center.
Japan and Russia split the two other gold medals at stake in judo.
The first day of tennis competition turned out to a lopsided affair as 12 matches ended in 6-0, 6-0 scorlines.
China's Xu Junchao needed only 34 minutes to dismiss Lebanon's Rami ALAYLI 6-0, 6-0 in the opening match on Center Court, while Germany's Carmen Klaschka claimed the fastest victory of the day, beating Faith Cecilia Mulenga of Zambia to love in just 25 minutes.
A total of 20 gold medals are up for grab on Monday and the Shenzhen Universiade runs through August 23.
(Xinhua)