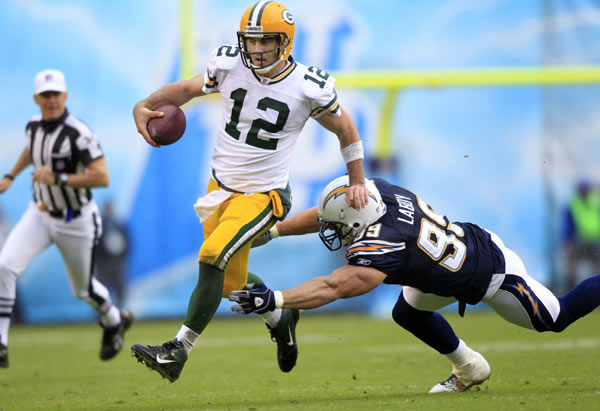 Green Bay Packers quarterback Aaron Rodgers (12) runs for a first down past San Diego Chargers outside linebacker Travis LaBoy (99) in the first half during their NFL football game in San Diego, California, Nov 6, 2011.
SAN DIEGO - Aaron Rodgers was at his best, throwing lasers where only his receivers could catch them and finding four different teammates in the end zone.

Yes, Rodgers had a lot to do with the Green Bay Packers remaining undefeated with a crazy 45-38 win over the staggering San Diego Chargers on Sunday.

So did Philip Rivers, whose miserable run of turnovers continued with three critical interceptions, two by Charlie Peprah.

Peprah and Tramon Williams returned pickoffs for touchdowns in a span of six plays in the first quarter, and Peprah's second pick in the closing seconds sealed the win for the Packers (8-0).

Rodgers completed 21 of 26 passes for 247 yards and ran his NFL-leading total to 24 TD throws. He had scoring passes of 5 yards to Jermichael Finley, 16 to Jordy Nelson, 21 to James Jones and 4 to Greg Jennings.

"I think Aaron has a lot of strengths. His decision-making is clearly the highest level that I have personally been a part of," Packers coach Mike McCarthy said of his Super Bowl MVP quarterback.

Rodgers, who lives in the upscale San Diego suburb of Del Mar in the offseason, seemed more impressed with the high percentage of cheeseheads in the sellout crowd than being the NFL's only perfect team.

"The crowd was incredible," Rodgers said. "When you're on the road and up by seven and it's late in the game and they have to go on a silent count, that's pretty impressive. I have to give a lot of credit to our fans the way they travel. It says a lot about the kind of fans we have."

Jennings couldn't emphasize enough how much Rodgers means to the Packers.

"He is a special, special, special, special player," Jennings said.

The Chargers (4-4) have lost three straight games, including road collapses at the New York Jets and on Monday night at Kansas City, when Rivers inexplicably fumbled a snap in the final minute of regulation.

Rivers also threw four touchdown passes on Sunday to tie his career high, three of them to Vincent Jackson.

"We're fighting through a rough time right now," said Rivers, whose 14 interceptions and 17 total turnovers lead the NFL. "These tough times, you find out a lot about guys, a lot about yourself."

Rivers was 26 of 46 for 385 yards. It was the first time in his career that he threw three interceptions in a game.

The Packers led by 21 points early in the fourth quarter before Rivers threw touchdown passes of 5 and 29 yards to Jackson in the span of 1:07 midway through the quarter.

San Diego had a final chance to tie it, starting a drive at its 32 with 1:05 remaining and no timeouts left. Aided by a pass interference call against Charles Woodson, Rivers moved the Chargers to the Packers 41 before putting up a deep ball that Peprah easily picked off and returned 76 yards to the San Diego 6. The Packers took a knee to end the game.
(China Daily)